Amazon Sellers are the assets of Amazon. It has comprehensive selling policies and best practices to follow while selling on Amazon for their vendors in seller central tab (can be searched when signed-in). Both New and Experienced Amazon FBA Sellers make some mistakes throughout their selling passage. Some mistakes are minor while some mistakes are big enough to cost you thousands of dollars, collapsing your business that no one wants! (Obviously, our target 🎯 is success always!)
Anyhow, If you are a junior Amazon seller, you can make some common exorbitant mistakes that most of the sellers make without even having an idea. You must go through the complete blog to understand Amazon's policies.
In this Blog, We will cover 7 Deadly Mistakes to Avoid While Selling on Amazon whether it is account Setting up or order handling.
7 Deadly Mistakes to Avoid While Selling on Amazon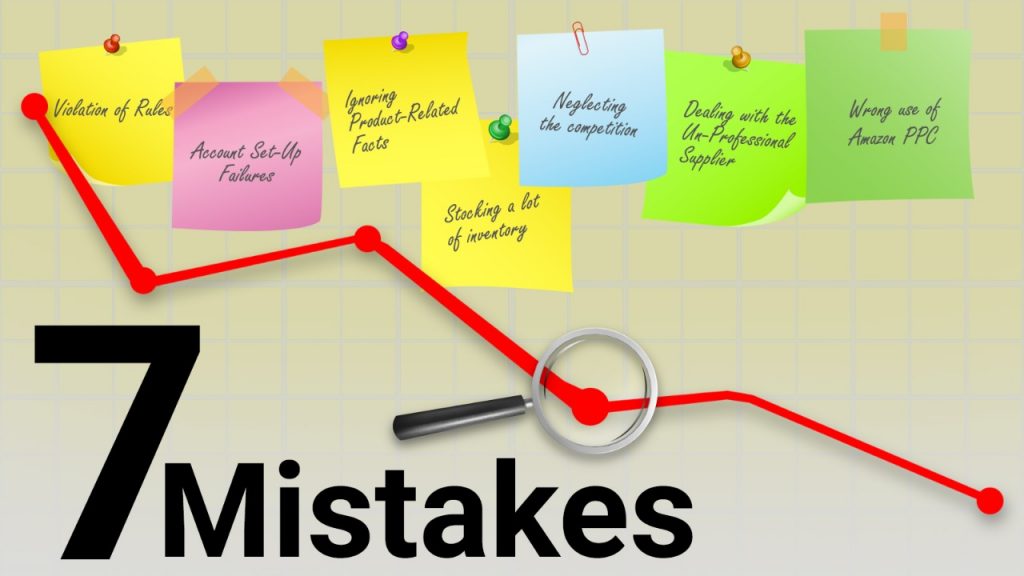 Mistake # 1 – Violation of Rules
Amazon is a huge platform that runs according to the rules and regulations. Each and every seller must know & stick to the rules and regulations of Amazon, no matter you are a junior or senior seller.
From FBA inventory shipment to the return & refund, every step must be taken according to the rules of the amazon. Amazon forbids the violation of rules, in case of any violation at any step throughout the online sales journey amazon can give you the warning and even have the rights to block your account any time!
📉 Possible Business Loss!
Misunderstanding Amazon rules can affect severely! Your account will be banned and inventory loss that is stored in Amazon warehouses is for sure of hundreds or thousands of dollars! You will not be able to create another account and sell again on the Amazon platform that's a Possible loss of high profits you could get through obeying the rules and proper sales!
Mistake # 2 – Amazon Account Set-Up Failures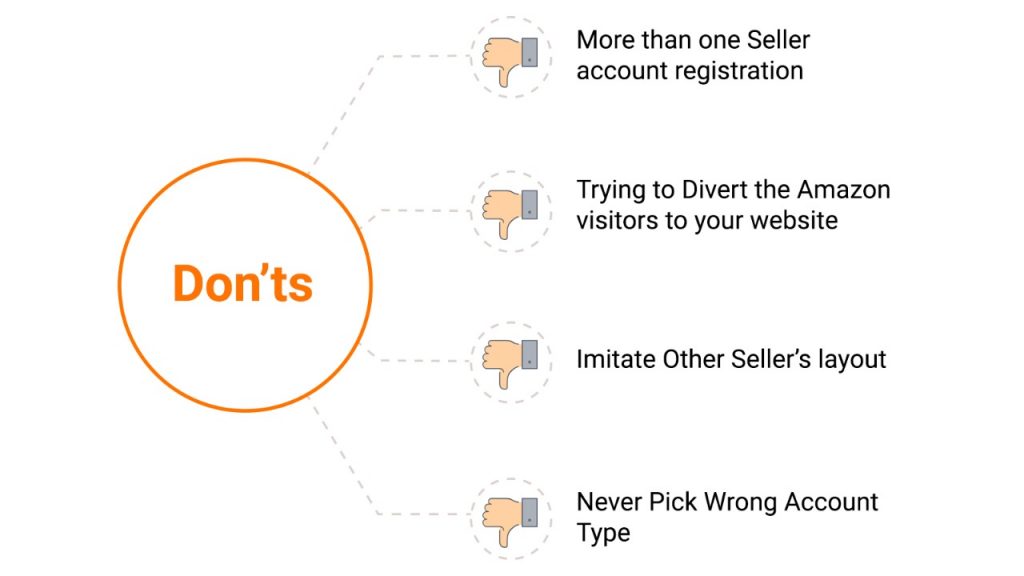 Amazon Seller Account is the basic interest for Amazon Sellers because they have to deal with their business through the seller account. Any Activity on the Amazon Seller Account that is against the rules and regulations of Amazon can be deadly. When you begin selling on Amazon, Make sure to understand and follow all terms of services otherwise any mistake can lead to account suspension that can be costly If you have already submitted your inventory to Amazon's fulfillment centers!
These mistakes regarding account set-up are:
More than one Seller account registration: If you are thinking of set-up more than one seller account to boost your sale. It is against the Amazon Policy! Amazon permits one seller to open only one seller account!
Trying to Divert the Amazon visitors to your website: Various Sellers tried to get the traffic on their websites by putting a URL on their product description or seller information. It is a Policy Violation and Amazon strictly prohibits this act.
Imitate Other Seller's layout: Copying other sellers may harm you in many ways! It may be possible that the seller you are copying is violating any rules that can put your account also on risk! Copying other's set up is itself an Amazon's policy violation. Must check the Amazon best practices, audits, testing time to time to refine your account.
Never Pick Wrong Account Type: Always pick the exact seller account type that is relatable and meant to your business. Do a little research and pick the right one!
📉 Possible Business Loss!
Can you imagine, where a successful business can take you? Sky-high profits are the ultimate result of becoming a successful Amazon seller! It is very costly to lose all the profits by attempting some mistakes while setting up the Amazon Seller Account. Avoid the Mistakes to run your seller account smoothly!
Mistake # 3 – Ignoring Product-Related Facts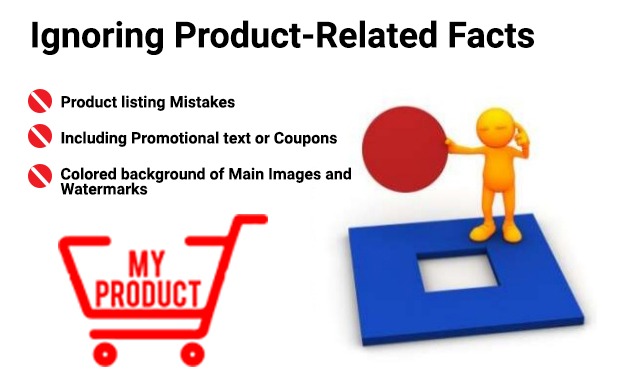 Product listing Mistakes: Amazon Product listing can give a boost to your product or bring it down! Incorrect or inaccurate Listings can drastically lower the profits! Best Content and Graphics of Amazon Product Listing and Product Photography can change the dimensions!
Including Promotional text or Coupons: It seems attractive but Amazon does not allow to add any Kind of promotional text, Coupons or sales in your Listing, description or Product Title! If you do so Amazon will give you a long term loss than a short term benefit!
Colored background of Main Images and Watermarks: White background in the main featured image is one of the amazon policy, Colored backgrounds in the main images are the violation of Amazon's law. Similarly, Any Kind of watermark, bordered images or cartoon images is not entertained by Amazon.
📉 Possible Business Loss!
These Mistakes can badly affect your Amazon Seller account image, Amazon can send you a warning and can ban your account! It is a costly mistake because you will have invested thousands of dollars in listing optimization, Graphics, Photography, PPC without any single penny of profit!
Mistake # 4 – Neglecting the competition

Amazon Selling needs proper strategy! Do extensive Product research (You can use AMZ Word Spy for keyword research related to the product), check out the competitors, Focus the reviews and ratings a product receives, If 10 or more than 10 sellers are getting the 100 or >100 reviews, it means that competition is high!
Calculate the Amazon PPC cost and possible profit you could earn before investing anything.
📉 Possible Business Loss!
Neglecting the competition and trying to get the buyers through Investing in PPC without proper research can take thousands of dollars away from your wallet without getting any profit in return.
Mistake # 5 – Dealing with the Un-Professional Supplier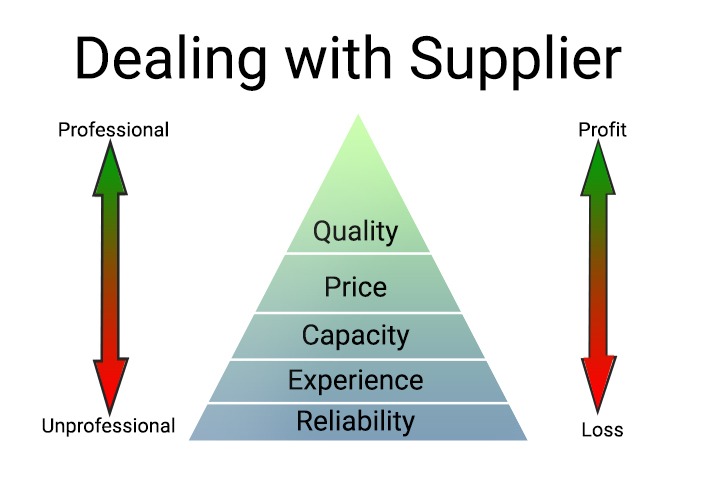 While You are running an online business, Dealing with trustworthy and professional product supplier counts a lot. Sometimes, Seller messes up their business because of the wrong supplier. To avoid business mistakes and loss you must check the reliability ratio, performance and work history of the supplier with other sellers.
📉 Possible Business Loss!
Dealing with a non-professional and unreliable supplier can lead you to different scenarios. Many issues like Overcharges, compromised quality, and sometimes deposit theft and escape arise. Your possible financial loss can be up to a thousand dollars in any situation.
Mistake # 6 – Stocking a lot of inventory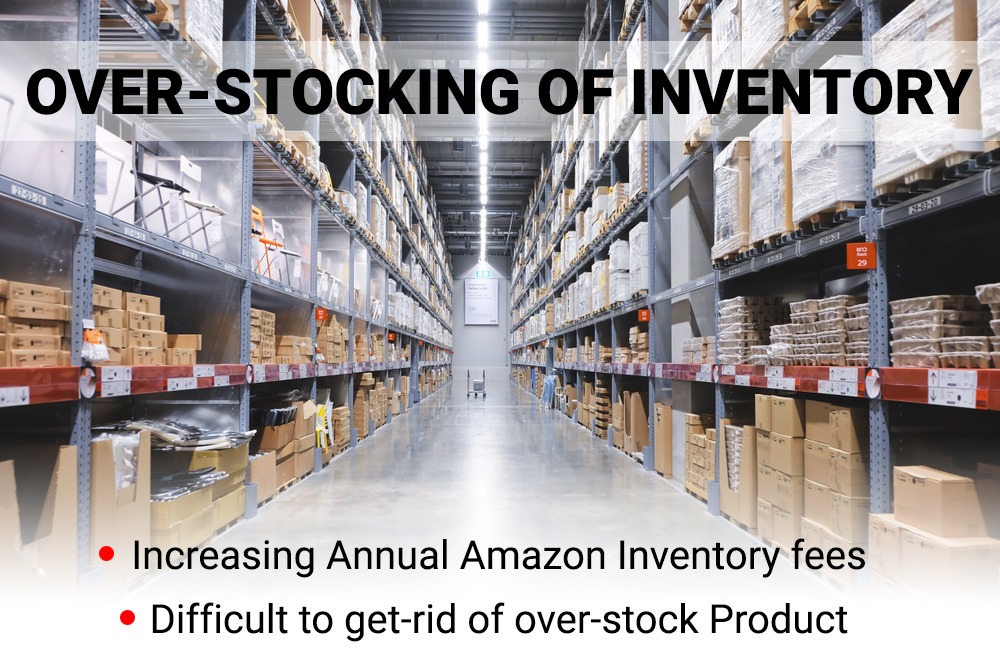 No seller wants to run out of the stock! To avoid running out of the stock what sellers do? They overstock the product. Overstocking has two main reasons:
1- Due to High Customer demand
2- Due to the lower cost per unit on a huge order
Over-stocking can be costly to a seller in many ways. Amazon costs the sellers to store their products in Amazon warehouses. So, You are just spending your money on over-stocking the product instead of earning. Another disadvantage of the overstocking may arise if your sales drop-down, It will be very difficult to get rid of that excess stock!
In this situation, Overstocking can not get back your complete investment while charging you more on inventory return $0.50 per unit to yourself. An approximate Sales estimation and valid prediction are needed to avoid overstocking problems via actual sales!
📉 Possible Business Loss!
If somehow you managed to sell the overstock! The profit will not be so attractive because the amazon long term inventory fees are so expensive! Amazon's charges for long term product inventory is up to $6.90 per cubic foot of product each month. You could have spent your money to get more profitable products and create new business ideas.
Mistake # 7 – Missing the opportunity to use Amazon PPC correctly!
Advertising is an important aspect of selling nowadays! If you are properly running your business via the help of proper product and competitor research than avail the opportunity of the Amazon Pay per click (PPC). Exactly as the name suggests that Amazon PPC costs you but gives your product more exposure and increases the chances of the sales. A little investment brought a large profit if you avail the opportunity of Amazon PPC accurately.
If your Product listing makes a sale through Amazon PPC, It increases your organic ranking because of Amazon algorithm considers your product worthy and in-demand.
Always calculates the PPC expense and profit margin to avoid each and every kind of loss risk.
📉 Possible Business Loss!
Advertisements can improve the number of impressions and directly increase in the sales & organic rankings comparatively usual sales. As the number of sales increase, It enhances the profit margins 50 times more than the PPC cost. You will be losing all the profits if you do not consider the Amazon PPC campaign option.
The Bottom Line
To avoid each and every mistake and become a successful seller on Amazon, always put your customer first! That is the Key Rule of the online Amazon Business. Hopefully, you will have understood the common mistakes mentioned above in the article and the ways to avoid them while running amazon business. Educate yourself more about the amazon rules and regulations & using the right tools to operate the business may help you run your business smoothly.
Although there are more plenty of mistakes which sellers make while starting the business, never take any step in a hurry or stress so that you could avoid the mistakes!
---
AMAZON SPECIALISTS & EXPERTS, AMAZON CONSULTANTS, AMAZON STORE MANAGEMENT

INDIA | USA | UK | CHINA | SINGAPORE | ISRAEL | SWITZERLAND | DUBAI