AMAZON VENDOR CENTRAL SERVICES
Amazon Vendor Central is a web interface for manufacturers, distributors and vendors to sell directly to Amazon. While the platform makes it easy to process orders, track product details and manage inventory, it requires an invitation to sell through Vendor Central.
If you have an invitation to sell through Amazon Vendor Central, we can help you right from setting up an account and creating product detail pages with A+ Content through to managing inventory and processing orders in bulk. Our professionals hold expertise in managing Amazon Vendor Central accounts, using Marketing tools such as Subscribe & Save, listing Amazon Sponsored Ads, and much more.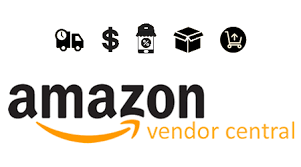 ---
How We Can Help with Amazon Vendor Central
---
Account Setup
We Help to set up your account and determine which platform is best for your business
Amazon Storefront
We Create a storefront to share more about your brand and products
Inventory Mangement
We manage your inventory monitoring as well as restock recommendations to maximize your business' profitability
Shipping
we handle your shipment process
Brand Registry
We Protect your brand from rogue sellers and counterfeiters
A+ Content
We handle your product A+ Content listing with additional content and images
Case Management
We Work on your behalf to resolve issues via Amazon's case management system
Content Development
we optimized Product titles, product descriptions and images and all things for your product listings
Advertising
We Provide expert insights and recommendations for your Amazon advertising: PPC Management service
Customer Service
We Provide polite and timely responses to all customer messages in an effort to minimize or eliminate negative customer feedback
---
WANT TO MOVE FROM AMAZON VENDOR CENTRAL TO SELLER CENTRAL?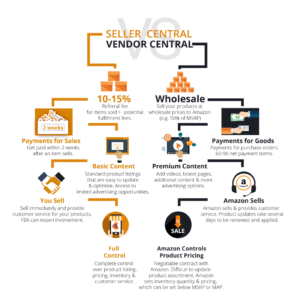 ---
AMAZON SELLER CENTRAL Vs AMAZON VENDOR CENTRAL
WHAT'S THE DIFFERENCE?
We have noticed a growing trend of brands wanting more control while selling on Amazon. Find out the difference between Amazon Seller Central vs. Amazon Vendor Central – read our blog post.
---
Contact Now
Do feel free to contact me if you require any further information or provide me your contact details and appropriate time, I will call you to discuss your requirements to come at a Point to make your Project Successful.
I will look forward to work with you and hope to develop a long term business relationship. Click Here
AMAZON SPECIALISTS & EXPERTS, AMAZON CONSULTANTS, AMAZON STORE MANAGEMENT
USA | UK | CHINA | INDIA | ISRAEL | SWITZERLAND